Description
Overview
We recognize that signals chosen with the use of multiple filters can significantly enhance your confidence and improve the chances of profitable trades.
With this fundamental concept in mind, we are excited to introduce the Snow Eagle Trading bundle as the ideal choice for individuals in search of dependable trade validations.
The bundle encompasses the following indicators and bar type: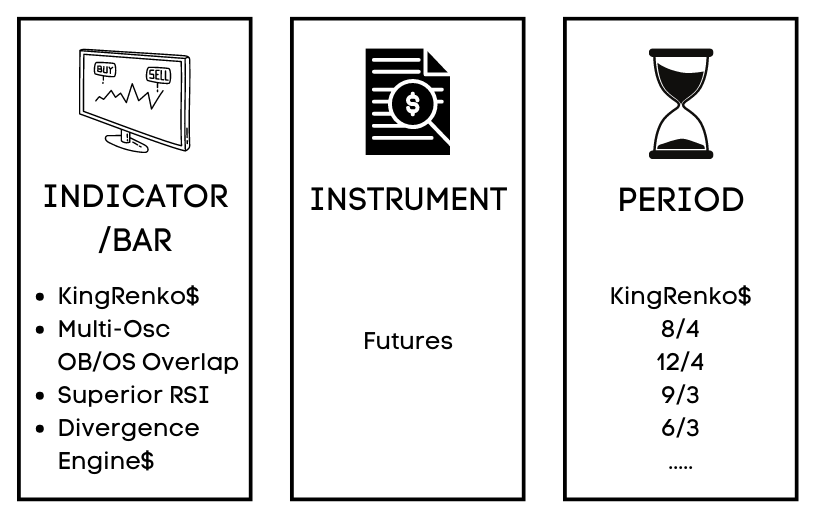 Reversal signals are generated by the 3 filters below: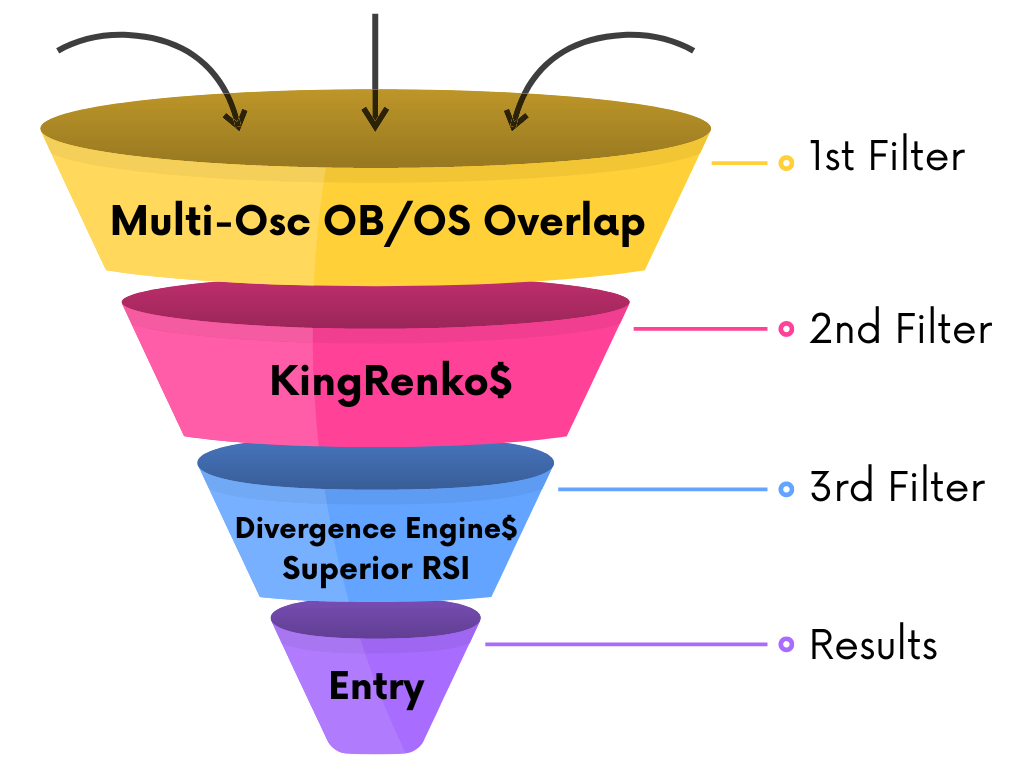 The 1st filter: Multi-Osc OB/OS Overlap – Unlocking the Overlapped OB/OS Advantage
Multi-Osc OB/OS Overlap provides dependable overbought and oversold zones derived from the three most widely used oscillators: MFI, RSI, and Stochastic.
What distinguishes Multi-Osc OB/OS Overlap from typical oscillators is its distinctive signal selection regions. This inventive oscillator generates signals within the zone that immediately follows the conclusion of the overlapped overbought and oversold area. This unique characteristic notably augments the reliability of the signals it produces.
The 2nd filter: KingRenko$ – The Reversal Bar Identifier
The KingRenko$ bar allows Multi-Osc OB/OS Overlap to detect Reversal bars that occur right after the overlapped overbought/oversold area, which is a necessary condition for Multi-Osc OB/OS Overlap to initiate an entry signal.
Crucially, KingRenko$ provides you with the capability to closely track real OHLC data, offering a means to execute trades at exact market price levels.
The 3rd filter: RSI-based Divergences – The Ultimate Signal Generator
To enhance the reliability of signals even more, the system utilizes the strength of divergences. Divergences are generated by the following two indicators:
It's crucial to keep in mind that within this system, entry orders are carried out based on signals provided by Divergence Engine$, rather than Multi-Osc OBS Overlap.
When divergence signals generated by Divergence Engine$ and Superior RSI appear immediately following signals from Multi-Osc OB/OS Overlap, entry orders will be placed according to the following rules:

When signals from Multi-Osc OB/OS Overlap appear without an immediate subsequent divergence signal, entry orders will be initiated based on the following rules:

The flight path of the Eagle mirrors a price reversal: it descends rapidly, chasing its target, before ascending again. This striking similarity motivated us to christen the bundle Snow Eagle Trading, emphasizing its remarkably trustworthy reversal signals.
The effectiveness of this package can also be likened to the authoritative rule of an eagle presiding over snowy peaks, thanks to its refined and highly dependable reversal signals. When contemplating the trio of reversal, oscillator, and divergence, the Snow Eagle Trading package unquestionably becomes an essential asset.
Crafted exclusively with you in mind, it eagerly awaits your exploration!
Media
Installation
Please read Installation Guide for details.
Support
FREE support for life! Feel free to ask us anything, anytime.
On NinjaTrader 8, you even have access to our PRIORITY SUPPORT directly from charts.
Please read Customer Service for details.
Software upgrade
All software upgrades for NinjaTrader 7 are absolutely FREE of charge.
All software upgrades for NinjaTrader 8 are absolutely FREE of charge.
A one-time low fee may be required for an upgrade from NinjaTrader 7 to NinjaTrader 8.
Please read Upgrade Policy for details.
Terms
ALL SALES ARE FINAL & NON-REFUNDABLE!
Because software products may be copied and stored easily, we will NOT issue refunds of any kind.
Upon purchasing this software, you agree to be bound by Terms of Service.
Software Changelog
NinjaTrader 8 version:
10 Aug 2023 – The package was released.