Description
Software
Alert Sound Maker is a desktop application which runs stand-alone on Windows 7, 8, 10.
So, please note that this is NOT a NinjaTrader indicator/addon.
The software creates sound files based on your input texts, in .WAV format.
These .WAV files can be used as alert sounds in 99% of desktop trading platforms, including but not limited to: NinjaTrader, MetaTrader, TradeStation, eSignal, MultiCharts, Sierra Chart, Investor/RT, CQG…
Overview
In Windows 8 or Windows 10, it's simple to incorporate additional languages and voices. Most widely spoken languages, such as English, Chinese, Spanish, Russian, French, Italian, German, Japanese, and Arabic, are fully supported. This means you can receive alerts in your native language. Please refer to our guide for more information.
Have you ever found the default "Alert3.wav" and "Alert4.wav" sounds confusing or tiresome?
Alert sounds should provide comprehensive information and be tailored for each indicator, instrument, and timeframe. In essence, you require alert sounds that convey specific scenarios effectively. This is a critical need and is therefore sought after by all serious traders.
Alert Sound Maker resolves this issue! The software generates sound files (.WAV) based on the text you input. Afterward, you only need to transfer these .WAV files to NinjaTrader's sound folder and start using them as alert sounds within the platform:
NinjaTrader 8, 32-bit Windows → C:\Program Files\NinjaTrader 8\sounds
NinjaTrader 8, 64-bit Windows → C:\Program Files (x86)\NinjaTrader 8\sounds
NinjaTrader 7, 32-bit Windows → C:\Program Files\NinjaTrader 7\sounds
NinjaTrader 7, 64-bit Windows → C:\Program Files (x86)\NinjaTrader 7\sounds
Key features:
Create .WAV file based on input text
Suggest filename smartly based on input text (like Microsoft Word)
Preview sound in real time
Play audio file again after saving
Allow controlling speed: slow, normal, fast (from -10 through 10)
Allow choosing voices
Allow adding new languages & voices

Windows 8 or 10
Media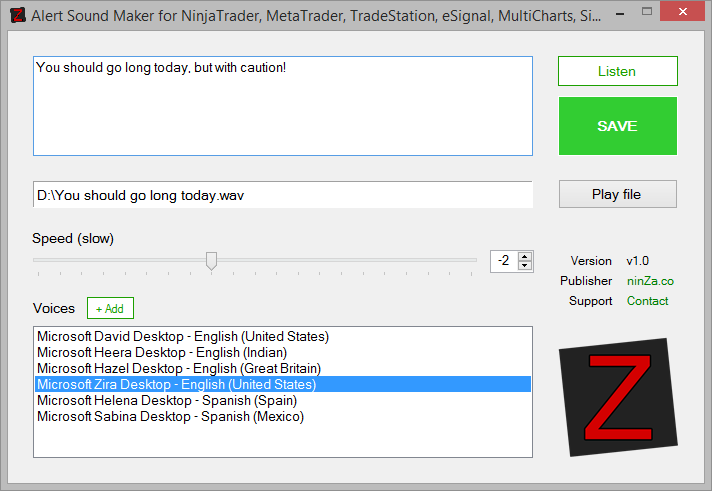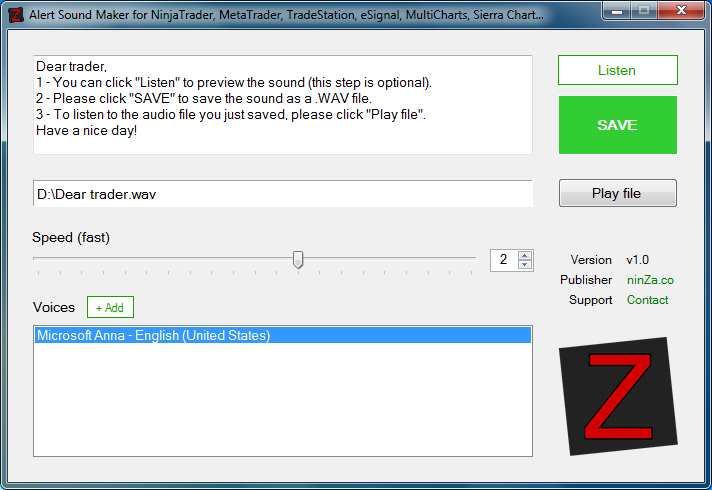 Installation
Please first extract the ZIP file to derive the executable file.
Then double click the executable file to open the software.
This is a portable application, which runs without the need for installation.
Support
FREE support for life! Feel free to ask us anything, anytime.
Please read Customer Service for details.
Upgrade
All upgrades are FREE to request, forever.
Terms
ALL SALES ARE FINAL & NON-REFUNDABLE!
Upon purchasing this product, you agree to be bound by Terms of Service.